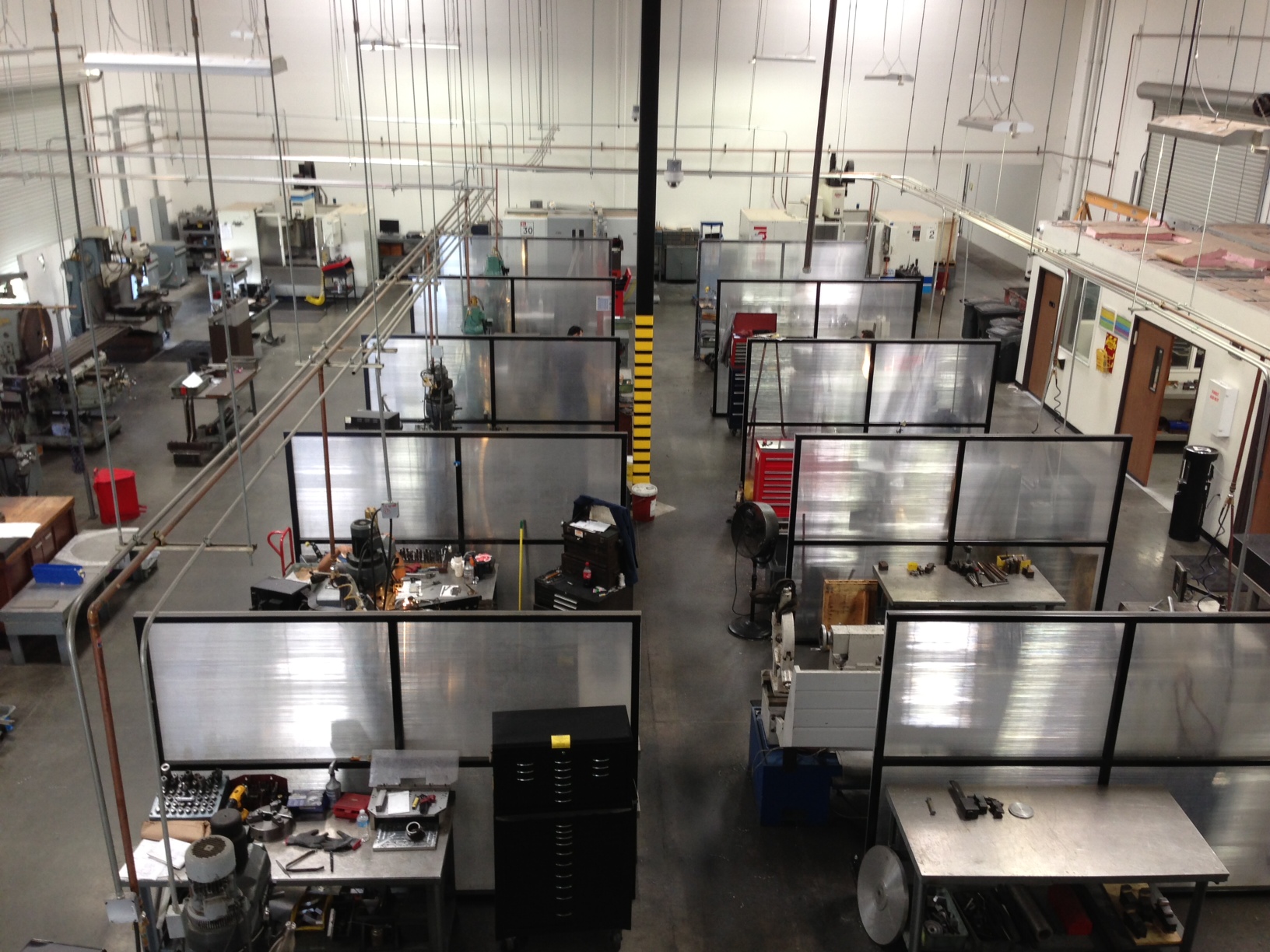 Precision at the Core
Components × Assemblies × Prototypes
Located in Otay Mesa, Pacific MFG is a producer of quality handcrafted tools and parts, serving San Diego since 1962.
Photos by ricky valenzuela
Pacific Manufacturing has been a fixture in the San Diego machining community for over 50 years and our focus has always been in three key areas: Quality, Timeliness, and Customer Service. Our longevity in the very competitive San Diego manufacturing market is proof of our commitment to these values.
We are outfitted with updated machinery that enables us to keep our prices and lead-times low. Our in-house welding shop eliminates the need to outsource this service which can add extra time and cost. Additionally, PMI possesses calibrated load-testing rigs that can perform stress tests on tools, parts and fixtures and certify with certainty the integrity of each.
In the time we have been in business we've fostered long-lasting, quality relationships with business partners all across America. Our network of service providers and product suppliers offer us a plethora of choices that are unmatched in the local industry.
As Pacific Manufacturing, Inc. looks forward to celebrating 50 years as a fixture and contributor to the San Diego business community, we are committed to continuing to partner with other local businesses as well as national and international entities. We recognize the importance of supporting the communities we serve and are proud to preserve and promote a new generation of craftsmen who are KEEPING MANUFACTURING ALIVE IN THE UNITED STATES.
Phone
619-423-0316
Fax
619-330-2091
Location
1520 Corporate Center Dr.
San Diego, CA 92154
Hours
M-F 7a-3:30p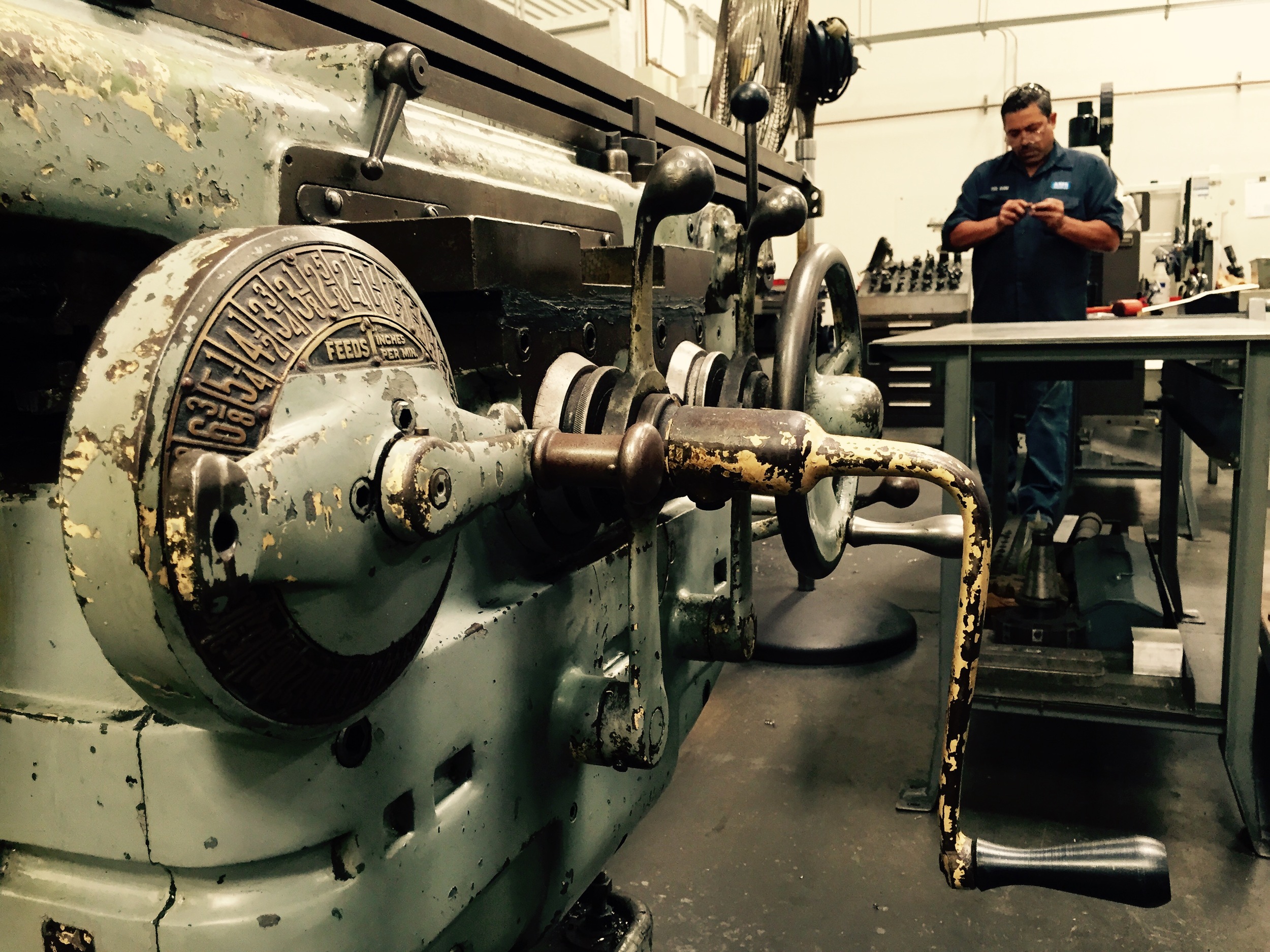 Our 20,000 square foot facility is outfitted with both traditional conventional machines as well as state-of-the-art CNC's
EQUIPMENT
Conventional Prototrak Mills (8)
Conventional Lathes (8)
Turning Diameter - 60" x 120"
CNC Mills - 1 Fadal & 1 Haas
Envelope - 40" x 20" x 28" / 40" x 60" x 28"
CNC Lathe - 1 Haas
Turning Diamater - 12" x 20"
SERVICES
Welding - Certified MIG & TIG
Steel / Aluminum / Stainless Steel
QC Inspection Room
Calibrated Granite Plate / Flow Meters / Pressure Gages / Assortment of Calipers and Micrometers / Thrd. Gages
Additional Services
Load testing up to 80,000 lbs.

Wood Box and Palette Building

Metal Stamping (Various Types)

Product and Part Assembly/Kitting

Local Flatbed Truck Delivery
When customers realize a company has attained AS9100 , they can purchase parts or products with a great degree of confidence
In November of 2013, PMI was awarded the very first San Diego Workforce Improvement Bureau (WIB) Grant, to assist in facilitating their ISO and AS9100 certification. Over the next year, PMI refined its existing quality policies and practices and in December of 2014, they received their ISO 9001:2008 and AS9100C certification from DNV.
As standard practice our company keeps meticulous records of conformance for all raw material, processing services and load-tested purchased goods in addition to certifications for all parts load tested in-house.
All of our welders are certified in-house against the company's PQR's and maintain meticulous records of work completed to facilitate in the renewing of welding certificates and to ensure compliance with our customer's rigorous supplier requirements.
Quote Requests
Please call 619-423-0316 to talk to us about a quotation.
You can also email your RFQ to us at: sales@pacmfginc.com
Purchasing Terms and Conditions
Supplier to Pacific Manufacturing shall provide the following additional information as needed or when requested.
1. When the Supplier wants to change the product, process, procedures, equipment or specifications, it must acquire Pacific Manufacturing, approval before changing product design, content, specifications, process requirements, technical data or requirements. (7.4.2.9)
2. When required, Suppliers shall provide evidence of qualification of personnel when requested by Pacific Manufacturing. (7.4.2.6)
3. Suppliers and Sub-Suppliers to Pacific Manufacturing shall maintain a quality management system compliant to a minimum of ISO 9001 unless waivered in writing in advance by Pacific Manufacturing management. (7.4.1)
4. The Supplier shall provide the identification, and revision status of specifications, drawings, process requirements, inspection/verification instructions and other relevant technical data when requested by Pacific Manufacturing. (7.4.2)
5. The Supplier shall notify Pacific Manufacturing, of nonconforming product when found in its facility (ies) or if found at another customer from the same lot number. (7.4.2.8)
6. Obtain Pacific Manufacturing, approval of nonconforming product disposal at our company facilities. (7.4.2.8)
7. Suppliers shall notify Pacific Manufacturing, of changes in product and or process, changes of the Supplier's raw material suppliers, changes of manufacturing facility location(s), and when needed, obtain Pacific Manufacturing, approval in writing. (7.4.2.8)
8. When informed by Pacific Manufacturing, the Supplier shall maintain technical test specifications, records, verification records, number of products reviewed, storage conditions and any audit or investigation reports when product compliance testing records must be retained. Pacific Manufacturing will inform the Supplier of the retention period if less than (10) ten years. (7.4.2)
9. Pacific Manufacturing, its Customer(s) and regulatory authorities retain the right to access all applicable Supplier organization's manufacturing areas and suppliers and be given the authority to review product validation or quality records with 24 hour notice.
10. The Supplier is to flow down to their supply chain the applicable Pacific Manufacturing requirements including final customer requirements.
11. Pacific Manufacturing reserves the right to withhold payment on invoices due to Supplier non-performance.